Your kind, generous support is greatly appreciated and makes a significant difference.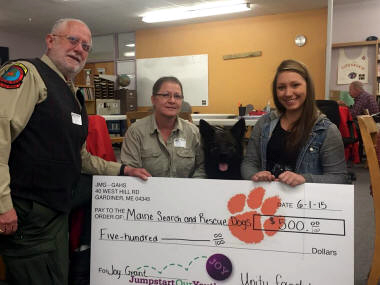 Maine Search and Rescue Dogs (MESARD) is a volunteer, non-profit organization. We do not charge for our services. Donations are used to purchase and maintain equipment such GPS units and radios, educational materials for Lost but Found school programs, and safety supplies.

Donations, sponsorships, and support to MESARD are very much appreciated.
You can also make a donation by sending a check or money order, made out to MESARD, to:
c/o Nicole St. Pierre
9 Gemini Drive
Topsham, ME 04086
MESARD is a 501(c)(3) non-profit organization for tax purposes.

If you have any questions about MESARD, please reach out to:

Leslie Howe, Membership Application Committee or Nicole St Pierre, Secretary